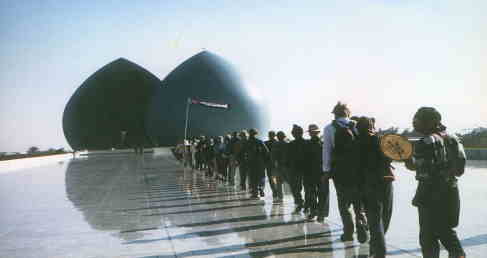 Vol. 3, 4 VOICE from Eastern Europe
---
CONTENTS


VOICES fromEastern Europe

Eastern Europe
Welcom to Croatia: A Welcoming Statement from a Local Church in Croatia

Lipic, in War and Peace

Split, Croatia

In East Mostar

A First Glimpse of War

Small Step in a Big War

Palestine

Message from the People of the Occupied West Bank

Iraq

Collective Statement From the Interfaith Pilgrimage

Emergency Eyewitness Report From Iraq March 1995

Facts on Iraq

Walking in Iraq Under Economic Sanctions

Walk News from Turtle Island

Contact/ Course schedule: Pilgrimage route/


---
VOICES from Eastern Europe

Almost four months have passed since the Interfaith Pilgrimage for Peace and Life 1995 started walking from Auschwitz (now called Oswiecim) to Hiroshima. During that time, the pilgrimage walked and traveled in Croatia, Bosnia, Israel, Jordan, Iraq and India. (See the route map for details.)

Croatia was one place where they were welcomed by local people. Greg Hessel, who organized the Ex-Yugoslavian leg of this pilgrimage, recalled a comment made by a Catholic priest in despair, " ... you are the first group that has come here to offer prayers for peace. So I am encouraged and heartened by your efforts." Greg wrote that this was a small but essential offering he felt he needed to make to bring peace.

The walkers could not obtain permission to walk in Sarajevo. However, 45 walkers fortunately did get visas to walk in Iraq for a week. And they walked - with tears and prayers. We received a phone call from one walker who returned from Iraqto Amman, Jordan, who said, "I cried everyday as I walked there. I learned that we just don't know what is really happening in light of "fair" economic sanctions. An Emergency Eye-witness Report explains the effects of these sanctions and also calls for support.

There are other legs of the Interfaith Pilgrimage beginning to happen in different areas. The Southeast US Peace Walk begins in May. Anoter small group is heading to Burma pray at massacre sites in Myanmmar, from April 25 to May 17. A Peace Walk in Korea is being organized. The Korean leg is scheduled for July.

As we edit the notes and diaries sent from walkers, we are aware that we want to transmit their voices and messages that were presented to them in print form, hopefully to be read by many people. For this, we deeply appreciate your support.

( editors )
Eastern Europe
Welcome to Croatia:
A Welcoming Statement from a Local Church in Croatia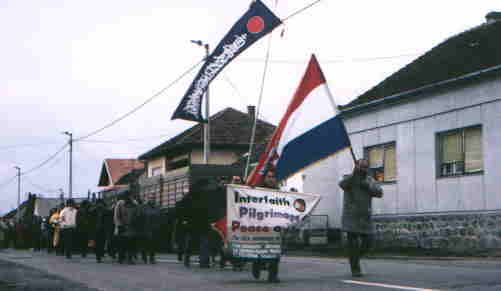 Welcome Dear Friends!
Welcome to Omis, welcome to Croatia. We've always welcomed our guests with open hearts and hands. Croats are friendly people always ready to offer hospitality to everybody.

Through centuries we've offered our homes even to those who are now attacking us. We are now suffering from the Serbian aggression that conquered one third of Croatian territory, destroying even holly monuments that are symbols of our people and church. The church was always with its people through all their sufferings and wants to minimize the pain of the wounded, humiliated and expelled, helping them no matter who they are.

It's hard to believe, but our youth get killed every day. While in your countries young people live carefully-they love, give kisses, work and study ---our young men live without that. They are always thinking how to protect their homes and their lives.

We salute you pilgrims, and wish you a pleasant stay in our town. You're passing through, but you haven't forgoten us and we thank you for that. It's nice to know that we're not alone, that there are people who care.

You're traveling to a holy land, eternal source of our hope and our faith. It's a place to pray for, one for peace, goodness, and light. Remember us and mention the name Croatia in your prayers. The prayers and faith have kept us alive--- .

Thank God for them. Being aware of humanity, we'll keep the light of life and eternal salvation on.
LET GOD'S PROTECTION AND IT'S BLESSING BE UPON YOU ON YOUR WAY!

( from a welcoming statement by a local church in Croatia )



Lipic, in War and Peace
On January 4, 1995, the Interfaith Pilgrimage for Peace and Life went to Lipic, a small town east of Zagreb, and sitting on the border of territory occupied by the Serbs. In 1991, Serbian forces came through and destroyed a large part of the town. The people fought back and were able to recapture their town. Three years later, as we walked, they were still evident everywhere. Lipic looked like a scene of a town bombed in the Second World War. Homes had been hit by rockets. Automatic weapons had blasted away stone and mortar from buildings everywhere. Roofs were missing on many houses. Where the damage was the greatest, silence was dominant, broken only by the wind.

As we walked through the streets, people greeted us with smiles, applause and tears.

We stopped at an orphanage which had sustained damage in the war. Fortunately no children were hurt and the buildings had been completely rationed. As we walked, more and more people joined us. We stopped at a nursery school where the children sang us a song. Some were fascinated by the long purple banner with the Buddhist chant on it. Others were delighted with the peace cranes.

After this, we walked to an area of temporary housing for the people who had lost their homes, and then to the United Nations checkpoint , on the border of territory occupied by Serbian forces. There was both sadness and courage in the faces of the people we saw. We discussed the war with some of the towns people who were our hosts. There was anger and pain over the losses they suffered. But some talked of the importance of forgiveness. I believe that is the message of our pilgrimage, for without it there is no peace. Our neutrality is essential as we meet those who have experienced war.

Our compassion is just as important. As we walk and pray, the Spirit of Peace moves with us and we hope that it moves the hearts of all whom we meet.

( Don Turner. Oakland, California )
Split, Croatia
On January 6, 1995, our pilgrimage arrived by ferry in Split, Croatia .

Split is a very old town of 700 years which sits beautifully perched along the Adriatic Sea. It is the type of town I really appreciate, with both elements of sea and mountains. The people of Split are quite striking in appearance. Young men and women look healthy and the older community members appear relaxed and comfortable. Feeling odd about being so close to a war zone, I asked many community members if they were fearful of the war, but no one seemed too concerned. It was explained to me that the Serbian people want land returned to them that was at one time their land, and this does not include Split.

We left Split, walking 98 miles to Mostar. We walked for five days. The first two days took us through 45 miles of spectacular coastline through Omis and Makaraka. Images of the Na Pal Coast of Kauai, Puget Sound, the Waianae Coast of Oahu, and the Arizona mountains flooded my memory. The people are very open and warm as they smiled and waved us on our way. On the third day we headed up (for 3 hours) through the mountains. We then walked up and down through the mountains to Vrgarac. The terrain changed drastically to low qrown scrub vegetation. The temperature dropped and the sky turned gray. We arrived at Meclugarje where we were invited to share housing with a family in a refugee center. The three story building offered us bunk beds, the use of a kitchen, and hot showers. There was no heat and we would find this fact not too unusual.

On January 11th we walked into Mostar. It was very sad to see this beautiful town in ruins. East Mostar and parts of west Mostar were completely destroyed and the wounds of these wars were still raw. The look in people's eyes did not yet reflect the hope of those neighbors in Lipic, Croatia.

Tears flowed as I watched a young girl kneeling by a grave in one of the newly formed graveyards. . . a graveyard replacing a city park where children once ran and played. This young girl kneeled to empty plastic milk cartons as she saw us approaching. Her face became slightly flushed, and she leaned over to quickly kiss the ordinary green wooden cross announcing the name of the grave owner. She left hurriedly.

I wondered if this grave was a brother, a father or a lover. My tears fell for the lost childhoods, the lost Mostar children and their parks to the eternal symbol of war. They lost their fragile innocence.

There is so much to be told about the suffering in Mostar.

During our 10-day stay in Mostar we were unable to travel to Sarajevo. We decided instead to fast and pray for peace in Mostar. On our first day of fasting we sat in a park near by destroyed bridges. On the second day we sat near the bridge in west Mostar. On this day we were not allowed to sit within sight of local people who had gathered (they actually encircled us though we were not sitting in a circle) throughout the first day. We were served hot tea by local common members on different occasions. Many people were loving, warm and happy that we offered prayers for peace. And some people were angry. On two occasions young men came by and yelled something to the crowd and they removed articles from our altar. In fact during this day every human emotion seemed to find opportunity for expression as we sat praying.

After our time in Mostar we returned to Split for one night. As I walked through the open air market, a small puppy gathered the attention of the crowds. I hope the sight of new life soon gathers attention in the streets of Mostar.

( Donna Goodwin. Kauai, Hawaii )
In East Mostar There Are No Roofs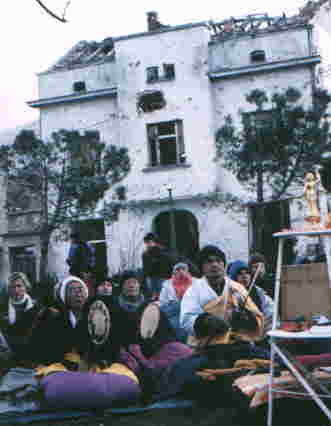 In east Mostar there are no roofs intact from the shelling. In east Mostar there are no walls one can trust to stay standing long. There is no heat and no hot water and electricity. In east Mostar the sound of metal and mortar falling from ruined buildings is as frequent as the sound of the wind rushing down from the mountains.

And the mountains that surround east and west Mostar are like the embrace of a mother holding a child. But, this embrace has turned into death hold as rockets and mortars have rained down upon Mostar from the mountain ridges. East and west Mostar, which lived as a unified town for centuries, no longer does so because of the killing that has gone on between the two.

Both Serbs and Croats have attacked the Muslims in east Mostar because they wanted territory. But the Serbs also wanted Croatian territory. So they attacked their former enemy from the Second World War. As a result, the conflicts turned into a destructive, bruital killing war against the Muslims.

We walked through east Mostar, meeting its people, talking in its destroyed mosque, hearing stories from the refugees. Thousands are now in this small town.

We witnessed the work of heroic nurses and doctors who minister to suffering victims. They do this without pay and with alarmingly little equipment and supplies. For two days we fasted and prayed for all of the people lost in this war in the former Yugoslavia. We did so for nine hours in east Mostar and nine hours in west Mostar. In the Muslim sector, the people gathered throughout the day to walk, some with tears. They brought us hot tea throughout this day to sustain us against the cold and the wind. The children played and postured around us all afternoon.

The people knew we were praying for peace and for them. They knew we were neutral in our vision for peace and reconciliation. Many of them heard our plea; many of them sought reconciliation, others could not because the anger and suffering were still too great.

We were helped to keep our vision clarified by the people we met. Our own refugee-like lifestyle also helped, as we lived in unheated spaces with very limited toilet and washing facilities. We walked long distances in uncertain weather that shifted from rain to snow to powerful winds and bright sunshine. What also helped to foster the vision of the pilgrimage was the daily morning prayer and the constant chanting and drumming as we walked. We sought to demonstrate publically and visually that people of different faiths, from different countries and of diverse backgrounds can come together through prayer and a shared vision of the possibility of peace. We are hopeful as we walk and pray from Auschwitz to Hiroshima that the Spirit of Peace will be in the people and countries we encounter. We hold that peace as a continuing reality is not just possible but essential, if we as a species and the Earth as a livable environment are to continue into the twenty-first century. This is a spiritual journey we are making: it is the only kind that can bring lasting transformation.

( Don Turner, Oakland, CA U. S. A )
A First Glimpse of War

On January 4th, we took a bus to Lipic, Croatia. Before September, 1991, this town of hot spring and a mineral water factories maintained a population of 6,000 inhabitants. For three months, this town was under Serbian control after heavy shelling and mortar fire. The town was retaken in December 1991 and now 2500 people live there. Forty people died during this war and another 100 people died during 1992.

We got off the bus 3 kilometers from Lipic and were met by local community members who served us hot tea and sandwiches outside a small bombed out church.

A band of local musicians in their traditional costumes played for us. It was a very cold and gray day and I wondered how the musicians' fingers could dance so quickly along the strings. A group of older men huddled around a fire.

Many community members joined us on our 3 kilometer symbolic walk. We were given red roses at a nursery whose business is just now being put back together. Children at a preschool sang us a song about a sad little rabbit who lost his creek in the winter freeze. His sadness was transformed by the hope of spring when the creek would return.

I cried as I walked through this town and reflected on the lives which were torn apart by war. There were many bombed out houses with some people living in parts of these houses. It was so sad to me that we humans could cause so much suffering. I became aware of the suffering caused by this war (having to leave your homeland, never to return, or having your home destroyed by neighbors or friends, losing loved ones. ) To my surprise, thoughts of the American Civil War floated through my mind, thoughts of brothers and neighbors killing each other.

My great-grandparents were young teenagers during the American Civil War. I remember both of my mother's grandmothers (Grandma Griffin and Grandma Nash) and I have vague memories of grandpa Nash. They told stories of the war fought on their land. During the walk on January 4 in Lipic, Croatia, I suddenly understood how that war of 130 years ago could be so alive in the southern United States. I realized how the suffering of that war continues in 1995.

Another stop we made that day in Lipic was at the international children's home. With the help of the international community, this building was one of the first two buildings to be rebuilt. One man's face was filled with joyful pride as this announcement was made to us: something to hold on to . . . some meaning for life. These people were very proud, smiling, and happy, but the scars of this war ran very deep and could easily be detected beneath the smiles.

In the upstairs window of this newly painted international children's home, a boy's face appeared. He was dark skinned and even at a distance his eyes sparkled. I wondered what that ten year-old boy will tell his grandchildren about this war in the year 2055. And I wondered what untold secrets will be passed along, to be whittled out of that generation's psyche, perhaps in the twenty second century.

What else I saw in the faces at Lipic that day hope and tremendous faith. I asked myself, from where does this hope come . . . . from people living with betrayal, people living with fear of war, people living with destruction still evident, with community members still missing and with the sting of losses so fresh. The faces I saw that day showed enormous faith and trust.

( Donna Goodwin, Kauai,Hawaii )
Small Step in a Big War
Gandhi once said, "Whatever you do will almost certainly be a very small thing, yet it is essential that you do it." In the vastness of the reins of Mostar, Bosnia Herzegovina, coming to walk, fast, and pray for peace seems to be a very little thing. Yet I believe that this small offering is essential for me to do.

Almost two years ago I ended my morning meditation with a prayer that God might lead me to a place where I could be of service to the world. Five seconds later the phone rang. It was my friend Brother Sasamori whom I had not heard from in eight months. "Greg, " he said, " I'm doing a peace walk from Auschwitz to Hiroshima. Can you help organize it ? "

To be honest, this was the last answer to my prayer that I had hoped for. I was still recovering from organizing a ten- month, 5,000 mile walk in 1992. Perhaps God had called the wrong number, I told myself. Two month later, however, I was with Brother Sasamori in Bosnia.

These organizing trips and many prayers brought Brother Sasamori's dream come to fruition. I found myself in the Balkans again leading some 50 peace pilgrims into potential war zones. Enabling peace makers from 10 countries to have potentially life changing experiences is deeply rewarding but exhausting. During the times of exhaustion I wondered how I could be of service to the world in such God forsaken areas as Croatia and Bosnia. But along the way the creator helped me understand.

Lipic, Croatia is a town of 8,000 which was leveled by the war in 1991. Now United Nation peace keeping troops separate the warring Croatian and Serbian armies. There are no bullets flying, but peace is a long way off.

I arrived in this rubble of ruins on a crisp January morning. Seeing the destroyed strangers and souls, I immersed myself in the death, chaos and hatred which fester in the hollow aftermath of war. I felt a heaviness overtaking me. But in contrast to my sobering feelings, we were welcomed by a traditional Croatian folk band, steaming tea and invitations to dance.

Initially I resisted this festive atmosphere. Fasting and penance seemed more appropriate in than doing the fox trot. But slowly I realized that these people have been living in ruins for over two years. They desperately needed an opportunity to let go of their pain for a while. We offered them the opportunity to celebrate and the hope that the world had not forgotten them. It is a small thing that we offered, but an important one. For as my Buddhist teacher Thich Nhat Hanh says, "Suffering is not enough."

Five days and 100 miles of walking later, we arrived in Mostar, which has the ruins of Lipic 50 times over. Blocks of 3 and 4 story stone buildings are now heaps of brick-scores and human hearts are now infected with hatred. In east Mostar there is no running water, no electrity, no roofs, and no way to measure the suffering. And while there are no longer bombs bursting in air, neither is there peace.

Our first meeting in Mostar was with a Catholic priest who had lost numerous family members in the war. He was overwhelmed with sadness as he spoke to us in a soft voice. Just under the surface of his skin I could see incredible suffering. We could not take away his pain or bring back his family members, but he told us, "many journalists and delegations have come here to report on the war, but you are the first group that has come here to offer prayers for peace. So I am encouraged and heartened by your efforts. "

We know that we cannot stop the war. Coming to Lipic and Mostar feels like a very small, insufficient offering. Yet in the face of this assault on humanity, which is an assault on all of us, we could not stay at home.

We had to come because we know that physically and spiritually, we are all connected. The suffering of people in the Balkans is our own suffering, just as the sick spirits of people in the United States. So are the suffering of people in Hiroshima, Vietnam, El Salvador, Panama, and Nicaragua. We are all heirs to the suffering and love which we inflict upon each other.

So we come to witness; to be with people; to tell them that we care; that they are not alone. In a country where people have been disempowered by 50 years of communism we try to model "the universal responsibility of the individual. " We offer them our steps, prayers and fasts. We trust that, in some mysterious way unknown to us, God will use us to be instruments of his peace. We do all of this, knowing that it is a small offering, and it is essential that we do it.
(Greg Hessel, organizer of the Pilgrimage, Ex- Yugoslavian leg )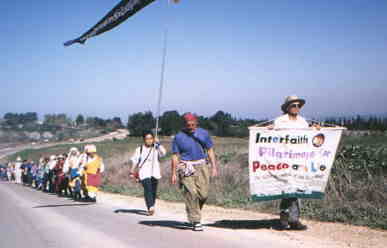 Palestine
Message from the People of the Occupied West Bank
A MESSAGE TO THE PEOPLE OF HIROSHIMA FROM THE PEOPLE OF BEIT SAHOUR, THE OCCUPIED WEST BANK.
The people of the West Bank town of Beit Sahour, in Israeli-occupied West Bank, would like to extend their deepest solidarity and sympathy to the victims of the cruel bombing of Hiroshima, something that should never be forgotten by the citizens of the world in order that such a brutal incident should never happen again.
As Palestinians who suffer under an occupying force which has taken our land and tramples upon our national rights, we extend our congratulations and respect to the people of Hiroshima who have worked so hard to rebuild their home after the indiscriminate destruction that was wreaked upon them by a large and bellicose nation.
We are involved in a peace process with the Israelis. Unfortunately their government continues to confiscate Palestinian land, build settlements, and lay claim to our holy city and capital, Jerusalem. These actions will never bring about peace. For that reason, we deeply appreciate the presence here of international delegations such as the Interfaith Pilgrimage for Peace and Life 1995 and their efforts to achieve peace which we hope will be realized in the very near future.

Always remember that the hearts and doors of this small Palestinian town of Beit Sahour, which had the honor of welcoming some of your heroic residents, will always be open to our friends from Hiroshima.
( Hanna Al Atrash, Mayor of Beit Suhour, West Bank, Palestine. )
Iraq

Collective Statement From the Interfaith Pilgrimage

In February, 1995, our pilgrimage took us to Iraq, where we witnessed first hand the results of sanctions imposed on the people of this country by the United Nations, at the urging of the United States. There is a critical scarcity of essential medicines necessary to ward off disease and preserve life. Those suffering the most are infants, children, mothers, and the aged. They are dying from infections and injuries that can be routinely remedied with the proper drugs and medications. To be able to live is the most basic of human rights and ranks above all other geo-political considerations. It is wrong and immoral to link medical, nutritional and other humanitarian needs to any other issue.

The importation of humanitarian aid into Iraq is being hindered by restrictions. Iraq has no credit to purchase its basic needs because its assets are frozen and it cannot sell its oil. Iraq depends on imports for 70% of its food nearly 100% of its medicines.

The sanctions have thus become a war against the people of Iraq. A crushing burden has been placed upon them that is unjust. The denial of food, medicine and humanitarian aid for any reason is against international law and the spirit on which the United Nations was founded.

In this fiftieth anniversary year of the end of World War ll, let us be reminded that any force used against the common citizens of a country is tyranny at best and may be genocide at worst. We must heed the lessons of history. We urge and pray that you will support the lifting of these sanctions immediately for the sake of the citizens of Iraq.

( The Members of the Interfaith Pilgrimage for Peace and Life 1995, at a press conference in Amman, March 9, 1995 )
Emergency Eyewitness Report From Iraq March 1995
On February 26th, 1995, thirty- six members of the "Interfaith Pilgrimage for Peace and Life 1995" approached the Iraqi border from Jordan. We could not have imagined the extent of the horrors and crimes against humanity that we would witness on the other side.

In January and February of 1991, a region 2/3 the size of Texas experienced one of the most relentless military attacks in history. For 42 days, 2,000 plane loads of bombs were dropped each day on Iraq. Four years later, the war continues. It is a war against the people, carried out through the most inhumane sanctions, making even the most basic of food and medical supplies inaccessible. Although international law prohibits embargoes on food and medicines, the freezing of Iraq's international assets makes it impossible for these items to be purchased and imported in sufficient quantity.

During a visit to a Baghdad hospital, our group huddled around the single functioning incubator, seeking the hollowed and desperate eyes of the mothers who could only hold their babies as they deteriorated towards death in their arms. How long will it be before they join the 500,000 other children and elderly who have died of malnutrition, lack of basic medicine and the recurrence of previously eradicated diseases such as cholera, hepatitis and tuberculosis since the 1991 Gulf War? The anesthesia supply has been blocked due to the claim that the Nitrous oxide used in its production will be used for military purposes. Cesarean sections and many other forms of surgeries are performed without anesthesia. The pain alone often results in death. The cancers that may result from the use of depleted uranium in missiles is not yet able to be calculated.

School drop-out rates are increasing and children are being deprived of the education that enables them to become literate world citizens. Why? For one, many must now leave school to help support their families. School supplies, once provided, are now in short supply. Shipments of pencils, the most basic tools of literacy, are being refused at entry based on the allegation that the lead might be used in the production of intercontinental missiles.

Over and over again, our international delegation, largely made up of citizens from G-7 superpowers responsible for the Gulf War, heard those we met say "we know if the people of the world knew what was really happening to us, they would not allow it." The U. S. perpetuated media censorship of the war and its aftermath has been thorough. The gradual genocide of the Iraqi people, still dignified in their suffering, has been made silent to the ears of the world.

In our nine month pilgrimage from Auschwitz to Hiroshima, our international, interfaith community of spiritual leaders, activists, war veterans, educators, students and parents has witnessed the human and environmental suffering inflicted by war in Eastern Europe, the Former Yugoslavia and the Middle East. During our journey to Iraq, when we asked at hospitals, women's federations and schools "what can we do?", we heard the plea to raise up the voices of the Iraqi people and convey their message of suffering to the world. As we continue our journey of witness and prayer toward Southeast Asia, we will carry the message of this emergency. We ask you, our friends, our communities committed to peace, to hear the message we carry from the people of Iraq and take action. The burned out buses that litter the sides of the roads, the charred remains of the Al-Amariya shelter where 1,500 women and children were incinerated and boiled to death is more than enough grief to bear. The 500,000 that have died since and continue to at a rate of 300 per day due to illegal and inhumane sanctions is an inexcusable and violent crime against humanity. The sanctions are renewed every 60 days. Please help us raise up the voices of the silences by:

-Copying and sharing this letter with individuals and organizations.

-Writing your Congress people, President Clinton and the United Nations Sanctions Committee asking them to life the sanctions against the people of Iraq.

Contact the International Fellowship for Reconciliation in NYC, New York, or other organizations working to life the sanctions and ask how you can help.

In Solidarity. Ricky Barue and Deb Habib/ Seeds of Solidarity.

(On the Road with the Interfaith Pilgrimage until Aug. 1995-Pilgrimage international contact is the Peace Pagoda 100 Cave Hill Rd. Leverett, MA 01054 USA )

Ricky Barue and Debbie Habib

Facts on Iraq
Child and infant mortality rates before and during the blockade.

The impact of the blockade on child mortality rates.

1 The under-five mortality rate before the Gulf crisis was 27. 8 per 1000.
This rate reached 104. 4 per 1000 with an increase of 380% .

2 The under-one mortality rate reached 35% .

3 The infant mortality rate increased from 22. 7 to 80 per 1000.
( extracts from Documented Facts by the General Federation of Iraqi Women )
Walking in Iraq Under Economic Sanctions
"Economic Sanctions are a silent war." My visit to Iraq, starting on February 26, was a heart-felt experience.

Scars of the war are not visible. Shattered buildings are quickly rebuilt and we did not observe much of a physical catastrophe in main street areas. There were only a few patches of empty fields left burned and uncleared. We were impressed by this incredible speed of reconstruction, considering that more bombs than what the US. military had dropped during the W. W. ll were said to be dropped on Iraq in 42 days since the gulf war broke out on January 17, 1991.

Busy quarters were filled with people, yet it did not seem to be lively as much as it could have been. I felt suppression.

This feeling was reassured when we went to a hospital in Baghdad on February 28. This hospital supposedly had the capacity of treating 500 in-house patients, and we were told 350 patients were in the hospital then. As we took a tour in the hospital, however, it seemed much less than what we were told. Above all, there were almost no medical devices. We saw incubators for prematurely born babies, but only two of them were working. Mothers tended to suffer from malnutrition, which resulted in lack of insulin for their new born babies, leading to birth defects. "He's dying," said a young doctor, standing in front of a skinny baby. The doctor looked haunted by disempowerment.

In the last four years, including the time of the gulf war, over 4 million people were said to have died in Iraq because of the war. Even now, 4,000 babies die every month due to an insufficient medicinal supply.

People do not come to the hospital, as they know its harsh condition. There is no way to know how many seriously ill people are left abandoned at home without any medical care.

This young doctor earns 3 thousand Iraq Denari (only four US dollars) per month. I wondered how he made his living. I heard that selling their belongings for food is a daily activity among ordinary families here. Starting with furniture, carpets, then going off even to the front door of a house, there are families who came down to have nothing more to sell.

When the UN applied economic sanctions, there were listed items excluded, agreed by the participating countries, such as food and medicine. According to Mr. Rimadhi, Information Minister of Iraq , the UN had, however, rejected urgent imports of 260,000 tons of rice from Thailand.

Degradation of people's minds is much anticipated if this situation coutinues. People in Baghdad seem to be persevering this difficulty, as far as we saw. I hear that crime is happening more in other regions and that a bus was hijacked by a group of unidentified gangs.

Prolonged economic sanctions of low intensity could be far more frightening than a short-term war, which is horrifying enough.

( Michizou Matsuzaki, Japan )
Walk News from Turtle Island
Walkers Step Closer to Goal

They walk the talk and they talk the walk. The Interfaith Pilgrimage for Peace and Life 1995 passed through our area this week. The marchers were walking, beating drums and praying their way from Plymouth, Massachusetts to Deseronto, Ontario and then to the United Nations in New York City.

The walk was to commemorate the 50th Anniversary of the end of the Second World War. Deseronto is the midpoint because it is the birthplace of Peace Maker (Chief Haudenausaunee) the man who brought peace to the people of the Six Nations. He was an example to the marchers of what was possible; thus they walk the roads he traveled. Peace Maker's vision was to bury all weapons in the ground and plant a tree of peace above them.

The group left Plymouth Rock on February 10 and reached Deseronto on March 13. On Sunday night they slept in Odessa, hosted by the people of St. Alban's Anglican Church. On Monday, the Marchers reached Napanee for lunch at Trinity United Church, and headed for Deseronto in the afternoon. They will reach the United Nations in New York City on April 20th, two months after they left.

Melinda Holm, a writer from New York City, is one of the marchers. "We're trying to achieve peace on earth. We've had a lot of leaders with teachings about peace. Everybody knows Ghandi and Martin Luther King, but very few people know about Peace Maker. So (Sr. Jun Yasuda) planned this particular pilgrimage. "

Holm says they have met with a lot of support along the way from others who are worried about peace issues. " If you're a peace activist, it's very distressing. We're a violence-ridden society. It's happening on all different levels. There's a lot of domestic violence, violence against children. It seems pretty much to be a global syndrome. "

The Buddhist prayer that the marchers chant as they walk is Na-mu-myo-ho-ren-ge-kyo, meaning "heaven and earth are one," or "all life is sacred."
( by Aimee Dopking Pianosi, Special to the Beaver )
Contact/ Course schedule: Pilgrimage route/

A Course : Contact/
Nipponzan Myohoji, Shibuya Dojo.
8-7Shinsen-cho,Shibuyaku,Tokyo,150,Japan.
TEL81-03-3461-9363.FAX81-03-3461-9367.

A course schedule:
Poland / Auschwitz (`94/12/8) ¨ Poland (12/10` 12/12) ¨ Czech (12/13`12/23) ¨ Austria (12/24`12/31) ¨ Austria / Vienna (`95/1/1) ¨Croatia (1/2`1/3) ¨ Zagreb (1/4) ¨ Croatia/Split / Bosnia / Salajevo / Belgrade. (1/5`1/28) ¨ Greek / Athens (1/29) Greece / Athens / Israeli / Tel Aviv (1/30`1/31) ¨ Israel / Jordan / Iraq (2/1`3/10)¨ India / New Delhi (about 3/10 `3/31) ¨ Malaysia (4/22) ¨ Thailand (4/23`5/7) ¨ Cambodia (5/8`5/31) ¨ Vietname (6/1`about 6/30) ¨ Philippine (7/1`about 7/31) ¨ Osaka (about 7/31) ¨ Tokyo [ Hiroshima.

Contact/ Northeast Course: Pilgrimage route/
Northeast Course: Contact/
Nipponzan Myohoji. Grafton Peace Pagoda,
Gyojun Yasuda
Rd. 1. , Box 308 A, Petersburg, NY 12138 Gyojun Yasuda
TEL+1-518-658-9301. (UAS)

Contact/ C Course India: Pilgrimage route/
C Course India: Contact/
Nipponzan Myohoji. Ven. Toshimasa Tanaka & Ven. Gyoken Asami (Sri Lanka)

Course schedule:
India / Cape Comorin / ('94. 10/2) ~ Bombay ~ NewDelhi

Contact/ D Course Japan: Pilgrimage route/
D Course Japan: Contact/
Nipponzan Myohoji. Ven. Takao Takeda and Ven. Gyoji Kawagisi
8-7 Shinsen-cho Shibuya-ku Tokyo 150 Japan. TEL81-03-3461-9363.FAX 81-03-3461-9367.
Course schedule:
Tokyo ('95. 4/28) ~ Hiroshima ~ Nagasaki ('95. 8/6,8/9).

Southeast Peace Walk:
May 1 St. Marys, GA May 25 Greenville, SC May 3 Brunswick, GA June 1 Asheville, NC
May 7 Savannh, GA June 9 Newport, TN May 13 Barnnah, GA June 15 Knoxville, TN May 16 Aiken, SC June 17 Oak Ridge, TN

For more information, please contact:
Southeast Course : Contact/
Nipponzan Myohoji, Atlanta Dojo Sr. Denise Laffin
1127 Glenwood Ave,S. E. Atlanta, GA 30316 USA.
tel: 404-572-9553

For more information, please contact:
Contact/
Nipponzan Myohoji. Jun Yasuda.
Grafton Peace Pagoda, Rd. 1. , Box 308 A, Petersburg, NY 12138
Tel:+1-518-658-9301

For more information,please contact:
Contact/
Nipponzan Myohoji :
100 Cave Hill Rd. Leverett MA 01054,USA
Tel +413-367-2202. Fax +413-367-9369.

Contact/ South Korea Course:
Contact/
Nipponzan Myohoji, Shibuya Dojo. Rev. Jyunji Simanuki
8-7 Shinsen-cho, Shibuyaku, Tokyo, 150, Japan.
TEL81-03-3461-9363. FAX81-03-3461-9367.
---
Newsletter "JUNREI" NO. 3, 4 (1995. 4)
For Interfaith Pilgrimage for Peace and Life 1995.
Information & Publishing ; JUNREI Publication Committee.
Edited by Prof. Katsu Harada and JUNREI Publication Committee stuff; K. Magome, T. Ichikawa, T. Heineman, H. Naitoh,
I. Yamanaka, T. Takahara, K. Harada.
Editing & Publishing office;
Prof. Katsu Harada;
1-2-37 Shirokanedai, Minato-ku, Tokyo, Japan 108 Dept. of Sociology, Meiji Gakuin University.
Tel +81-3-5421-5356 (office). Fax +81-3-5421-5202 (office).
Kumiko Magome;
6-5-12-206 Asahi-cho, Souka-shi, Saitama-ken 340,
Tel & Fax +81-489-44-5150
Hiro Naitoh; 1486-12 Tomitsuka-cho, Hamamatsu-shi, Japan 432
Tel +81-53-472-5254. Fax +81-53-478-0235

---

ReturnDDDDDD

Return to DDDDD